The Bridge On The River Kwai Blu-Ray (1957) (Region A) (Hong Kong Version) (Mastered in 4K)
$32.99 USD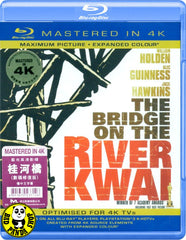 Region Coding: Region A (Locked)

Starring:
William Holden
Alec Guinness
Sessue Hayakawa
Jack Hawkins
James Donald
Geoffrey Horne

Director:
David Lean

Audio Tracks: 
DTS-HD Master Audio 5.1

Languages: 
English

Subtitles:
English, Traditional Chinese

Running Time: 
- minutes (TBA)

Distributor:
Sony Pictures / Intercontinental Video Ltd. (IVL)

Release Date:
5 Dec 2014

Synopsis:
When British POWs build a vital railway bridge in enemy-occupied Burma, Allied commandos are assigned to destroy it in David Lean's epic World War II adventure THE BRIDGE ON THE RIVER KWAI. Spectacularly produced, THE BRIDGE ON THE RIVER KWAI captured the imagination of the public and won seven 1957 Academy Awards®, including Best Picture, Best Actor (Alec Guinness), and Best Director. Even it's theme song, an old WWII whistling tune, the Colonel Bogey March, became a massive hit. THE BRIDGE ONTHE RIVER KWAI continues today as one of the most memorable cinematic experiences of all time.
More items to consider...