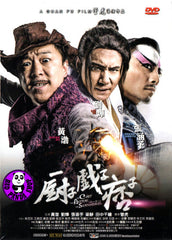 Region Coding:
Region 3 (Locked)

Starring:
Liu Ye
Zhang Hanyu
Huang Bo
Liang Jing

Director:
Guan Hu

Audio Tracks: 
Dolby Digital 5.1

Languages: 
Mandarin, Cantonese

Subtitles:
English, Traditional Chinese, Simplified Chinese

Running Time: 
98 minutes

Distributor:
Kam & Ronson Enterprises Co., Ltd. (HK)

Release Date:
30 Aug 2013

Synopsis:
Beiping (modern-day Beijing), autumn 1941. The Japanese-occupied city is riven with a cholera epidemic and is under quarantine, with a 6 p.m. curfew. A masked ruffian (Huang Bo), dressed like a cowboy, attempts to rob a carriage in which two Japanese are travelling - Sugai Shinichi (Takashima Shinichi) and Ogasawara Goro (Otsuka Masanobu) - but the carriage crashes. Entering a deserted Japanese restaurant nearby, run by an effeminate chef (Liu Ye) and his crazed, mute wife (Liang Jing), the ruffian finds the two Japanese tied up. The chef and his wife are hostile, as too is a veteran opera performer (Zhang Hanyu) who works there, and all four start arguing over a seemingly valuable metal canister that is chained to Ogasawara's wrist. The argument is interrupted by the arrival of three detectives (Wang Xun, Fei Zhenxiang, Zhao Suchen), from whom the chef and his wife hide their two captives and the canister while the place is searched. After the detectives have left, and the curfew comes into place, the four discover that the canister holds a flask of blue liquid marked "cholera bacteria", being transported from Manchuria to Beiping to help treat the outbreak that has infected over 1 million people in northern China. The two captives are biochemists from Unit 731 - a germ-warfare research centre set up in Manchuria by the Japanese army that is the source of the epidemic - who have come to develop a vaccine. Their four captors realise they can potentially make a lot of money from their discovery and start bickering again. But all is not as it seems. In fact, the four are all highly skilled Chinese secret agents who have three days to get the secret of the vaccine from their captives. Realising the Japanese will not give in to torture, they try to trick them into revealing the formula by putting on a masquerade. But what they don't know at first is that the virus has already mutated. Meanwhile, the three suspicious detectives have put the restaurant under surveillance, and then a Japanese army captain, Igarashi (Minowa Yasufumi), tired after searching for the missing biochemists, drops by for his favourite meal of blowfish.
 

movie trailer (English subtitle)
More items to consider...