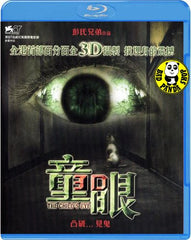 Region Coding: Region A (Locked)

Starring:  
Rainie Yang
Shawn Yue
Gordon Lam
Jo Koo
Elanne Kwong
Ciwi Lam
Rex Ho
Xu Zheng Xi

Director:
Danny Pang
Oxide Pang
(Pang Brothers)

Audio Tracks: 
DTS-HD Master Audio 7.1, Dolby Digital 5.1

Languages: 
Cantonese 粵語, Mandarin 國語

Subtitles: 
English, Traditional Chinese 繁體中文字幕, Simplified Chinese 簡體中文字幕

Running Time: 
97 minutes

Distributor:
Universe Laser

Release Date:
09 Dec 2010

Synopsis:
Rainie and friends take a trip to Thailand, but as they arrive, folks are held up by a political crisis caused by the Thai military, leading to blockades of the international airport and the main road to their hotel. Having no choice, the whole group has to stay at a remote motel. A strange journey is about to unfold at this bizarre Thai hotel, where they come across some kids who act strangely and a dog that is able to see ghosts. Even worse, they confronts unexplainable and mysterious matters, and later the girls get lured to an underworld full of paper offerings for the dead. The secret of all the mysteries is actually hidden in that underworld...
This Blu-ray set contains both the 3D version and the 2D version. To play the 3D version, you need a 3D Blu-ray player and a 3D compatible display that supports 3D glasses (glasses are not included for this item).
More items to consider...