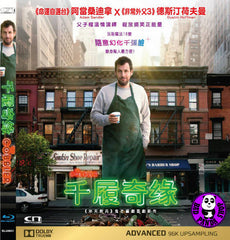 Region Coding: Region A (Locked)

Starring:
Adam Sandler
Method Man
Ellen Barkin
Dustin Hoffman
Melonie Diaz
Elena Kampouris

Director:
Tom McCarthy

Audio Tracks: 
Dolby TrueHD Advanced 96k upsampling 5.1, Dolby Digital Plus 7.1

Languages: 
English

Subtitles:
English, Traditional Chinese, Simplified Chinese

Running Time: 
- minutes (TBA)

Distributor: 
CN Entertainment Ltd. (HK)

Release Date:
29 July 2015

Synopsis:
Max Simkin (Adam Sandler) repairs shoes in the same New York shop that has been in his family for generations. Disenchanted with the grind of daily life, Max stumbles upon a magical heirloom that allows him to step into the lives of his customers and see the world in a new way. Sometimes walking in another man's shoes is the only way to discover who you really are.
More items to consider...