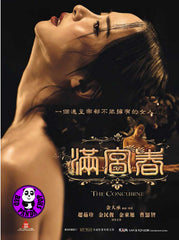 Region Coding: Region 3 (Locked)

Starring:
Jo Yeo Jeong
Kim Dong Wook
Kim Min Jun

Director:
Kim Dae Seung

Audio Tracks: 
Dolby Digital 5.1, Dolby Digital

Languages: 
Korean, Cantonese

Subtitles:
English, Traditional Chinese, Simplified Chinese

Running Time: 
93 minutes

Distributor:
Kam & Ronson Enterprises Co., Ltd. (HK)

Release Date:
23 July 2013

Synopsis:
To escape a life of poverty, Hwa-yeon is forced to offer herself as one of the king's concubines. Once inside the royal palace, two men are immediately captivated by her. The Grand Prince Seong-won, a powerful, lust filled megalomaniac and Kwon-yoo, who has everything to lose if his desire for Hwa-yeon is exposed.
More items to consider...