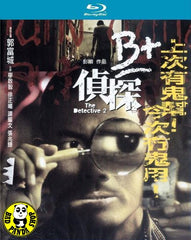 Region Coding: Region A (Locked)
Starring: 
Aaron Kwok 郭富城
Liu Kai Chi 廖啟智
Patrick Tam Yiu Man 譚耀文
Eddie Cheung 張兆輝
Gong Bei Bi 龔蓓苾
Xu Zheng Xi 徐正曦 
Renee Lee 李蘊

Director: 

Oxide Pang 彭順

Audio Tracks: 
DTS-HD Master Audio 7.1, Dolby Digital 5.1

Languages: 
Cantonese, Mandarin
Subtitles: 
English, Traditional Chinese, Simplified Chinese

Running Time: 
101 minutes
Distributor:
Universe Laser (HK)

Release Date:
07 July 2011

Synopsis:
Private detective TAM is entangled in serial killings case since his chilhood buddy FUNG showed him some crime scenes photos. including a man found dead in his home, a female body dumped in garbage dump and a teenage girl died of uncertain cause. Seemingly victims who die in the weirdest ways are unrelated, but each clue directs to one suspect. Investigation even comes to a halt after FUNG is assaulted by a mysterious attacker. When Tam digs deep into the truth, buried memory of his orphanage is aroused... To Tam, this case is ever-challenging because it not only to dig out the murder, it even touches on an untouchable knot buried deep in his heart....
More items to consider...