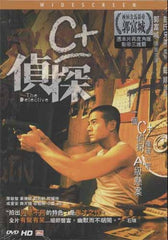 Region Coding: Region Free

Starring: 
Aaron Kwok
Liu Kai Chi
Kiki Sheung
Wayne Lai
Shing Fui On

Audio Tracks: 
DTS 5.1
Dolby Digital 5.1

Languages: 
Cantonese, Mandarin

Subtitles: 
English, Traditional Chinese, Simplified Chinese

Running Time: 
110 minutes

Distributor:
Universe Laser

Release Date:
22 Nov 2007

Synopsis:

Living in a small dinky office, near-sighted, debt-ridden private detective Tam talks big, but is a small fry. He gets an interesting job when hard-drinking friend Lung shows up one day with the picture of a woman whom he claims is trying to kill him. Unable to locate the woman, Tam starts looking up her acquaintances, but he seems to always be in the wrong place at the wrong time. At his first stop, he walks into a man hanging from the ceiling, the first of many dead bodies he stumbles upon. Tam becomes increasingly obsessed with finding the truth behind the mysterious deaths, but digging too deep could have dangerous consequences...
More items to consider...