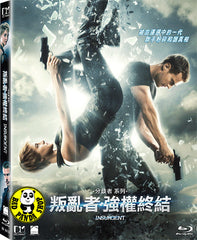 Region Coding: Region A (Locked)

Starring:
Shailene Woodley
Theo James
Maggie Q
Daniel Dae Kim
Jonny Weston
Suki Waterhouse
Jai Courtney

Director:
Robert Schwentke

Audio Tracks: 
Dolby Atmos, Dolby Digital 5.1

Languages: 
English

Subtitles:
English, Traditional Chinese

Running Time: 
- minutes (TBA)

Distributor: 
Bravos

Release Date:
6 Aug 2015

Synopsis:
INSURGENT raises the stakes for Tris as she searches for allies and answers in the ruins of a futuristic Chicago. Tris (Woodley) and Four (James) are now fugitives on the run, hunted by Jeanine (Winslet), the leader of the power-hungry Erudite elite. Racing against time, they must find out what Tris??s family sacrificed their lives to protect, and why the Erudite leaders will do anything to stop them. Haunted by her past choices but desperate to protect the ones she loves, Tris, with Four at her side, faces one impossible challenge after another as they unlock the truth about the past and ultimately the future of their world.

1.Audio Commentary with Producers Douglas Wick And Lucy Fisher
2.Target Exclusive
-Insurget In Style
-Simulations: The Next Level
-Veronica Roth: Tell All
3.From Divergent To Insurgent
4.The Others: Cast And Characters
5.The Train Fight Unlocked
6.The Peter Hayes Story
7.Diverging: Adapting Insurgent To The Screen
8.Marketing Gallery
-Sneak Peek
-Sneak Peek Presented By Shailene Woodley
-In-Theater Promotional Making-of
-HBO First Look
-Theatrical Trailer 1-5
-Image Gallery

More items to consider...