The East Is Red DVD (1993) (Region Free DVD) (English Subtitled) Digitally Remastered a.k.a. Swordsman 3
$19.99 USD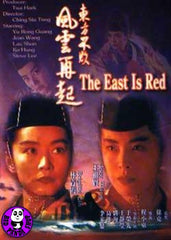 Region Coding: Region Free
Starring: 
Brigitte Lin
Joey Wang
Yu Rong Guang

Director:
Ching Siu Tung

Audio Tracks: 
DTS 5.1
Dolby Digital 5.1

Languages: 
Cantonese, Mandarin

Subtitles: 
English, Traditional Chinese, Simplified Chinese

Running Time: 


93 minutes

 

Distributor:
Mei Ah

Release Date:
16 Jun 2003

Synopsis:

Following the death of Asia the Invincible, it is the time when everyone is trying to be the ruler of the martial arts world. One of them is Snow, Asia the Invincible's former lover. She is deeply in love with him and wants to re-establish the Sun Moon Sect. Meanwhile, the government dispatches Koo to investigate the death of Asia the Invincible. As the mystery unfolds, Asia the Invincible has been living as a recluse under the Black Cliff. Under Koo's persuasion, he decides to return and let people know that the real Asia the Invincible is not like the false images that others have managed to embed in their minds...
More items to consider...