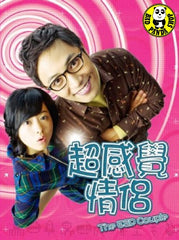 Region Coding:
Region Free

Starring: 
Jin Gu
Park Bo Young

Director: 
Kim Hyung Joo

Audio Tracks: 
Dolby Digital 5.1

Languages: 
Korean

Subtitles: 
English, Traditional Chinese

Running Time: 
85 minutes

Distributor:
Mei Ah (HK)

Release Date:
09 April 2009

Synopsis:
College student Su Min (Jin Goo) gets into more than he bargained for when he saves a high school girl (Park Bo Young). The girl, Hyun Jin, turns out to be one cute and curious ball of trouble when she catches scent of the fact that Su Min has special powers, something that he'd like to keep a secret. Hyun Jin begins tagging after Su Min to dig out the truth, leading to many hilarious mishaps as she tries to test him. Su Min has no choice but to face up to his powers and his budding feelings for Hyun Jin when the two of them stumble on a kidnapping case.
More items to consider...