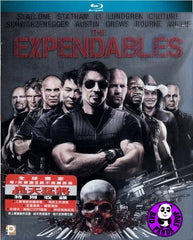 Region Coding: Region A (Locked)

Starring: 
Sylvester Stallone
Jason Statham
Jet Li
Dolph Lundren
Terry Crews
Eric Roberts
Randy Couture

Director:
Sylvester Stallone

Audio Tracks:
Dolby DTS-HD Master Audio 5.1
PCM 5.1
PCM 2.0

Languages:
English, Cantonese

Subtitles:


English, Traditional Chinese

Running Time:
103 minutes

Distributor:
Panorama HK Distributions

Release Date:
23 Nov 2010

Synopsis:
A team of highly-trained, dangerous mercenaries are sent on a mission to a South American country, with the objective to overturn a cold-blooded dictator in charge. As the mission begins, the mercenaries discover that the situation is not as it appears. The men find themselves trapped in a deadly game of deception, with a traitor amongst their ranks.
More items to consider...