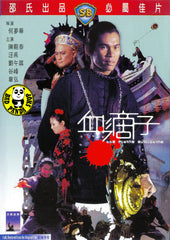 Region Coding: Region 3 (Locked)

Starring: 
Chen Kuan Tai
Ku Feng
Liu Wu Chi
Wang Yu
Frankie Wei

Director: 
Ho Meng Hua


Audio Tracks: 
Dolby Digital

Languages: 
Mandarin

Subtitles: 
English, Traditional Chinese, Bahasa (Malaysia), Bahasa (Indonesia)


Running Time: 
101 minutes

Distributor:
Intercontinental Video Ltd. (IVL)

Release Date:
30 2004

Synopsis:
Director Ho Meng-hua attained cult status among Western kung-fu film fans with The Flying Guillotine. One of Shaw's biggest martial arts stars, Chen Kuan-tai, plays the leader of a group of killers, commissioned by the Ching Emperor to use a deadly, beheading weapon to assassinate dissidents. Although based on a true story, the film's weapon was a complete fabrication because in real life, no one ever survived to tell what the actual weapon really looked like.
*Fully restored from the original film
More items to consider...