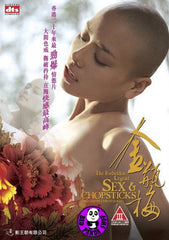 Region Coding: Region Free

Starring: 
Lam Wai Kin
Hasekawase Rina
Wakana Hikaru
Leung Chuk Mun
Uehara Kaera
Norman Tsui

Director: 


Chin Cash



Audio Tracks: 
Dolby Digital 5.1
DTS Digital Surround

Languages: 
Cantonese, Mandarin

Subtitles: 
English, Traditional Chinese, Simplified Chinese

Running Time: 
93 minutes

Distributor:
Joy Sales (HK)

Release Date:
19 Dec 2008

Synopsis:

It happened in the Sung Dynasty. Simon (Lam Wai Kin), a good for mothing Womanizer, was handsome, well endowed and knew all about drugs which could intensify carnal pleasure. Once he was grown up, his father (Chui Siu Keung) commissioned a voluptuous harlot, Violetta (Koera Uehara) to teach him the art of lovemaking. Henceforth, Simon embarked upon a life of womanizing.
His first prey was the virgin nun Moon (Hikaru Wakana). One day, Simon was sick and sought sheller in Moon's nunnery. There, by exposing himself and arousing her curiosity and desire, he successfully seduced Moon and brought her home to be his wife.
However, Simon would not be contented with just one woman. His next target was Lotus (Serina Hayakawa), whose fatal attraction was her pair of small feet. This excited the fetishistic Simon who decided to have her by hook or by crook. To his dismay, Lotus was already married to the ugly dwarf Wu Da-lang (Ng Chi Hung). Simon then decided to get rid of him....
More items to consider...