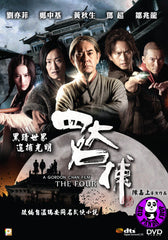 Region Coding: Region Free

Starring:
Ronald Cheng
Anthony Wong
Crystal Liu
Collin Chou
Sheren Teng
Deng Chao
Michael Tong
Waise Lee
Cheng Tai Shen
Bao Bei Er
Mu Fan Long
Fang An Nuo
Tenky Tin
Jiang Yi Yan
Zhang Song Wen

Director:
Gordon Chan
Janet Chun

Audio Tracks: 
DTS Digital Surround ES, Dolby Digital EX

Languages: 
Cantonese, Mandarin

Subtitles:
English, Traditional Chinese

Running Time: 
118 minutes

Distributor:
Panorama (HK)

Release Date:
29 Nov 2013

Synopsis:
When counterfeit bills appear in the capital city of the Song Dynasty, the court-run Six Fan Gate constabulary and the independent Divine constabulary are assigned to investigate. Coldblood of the Six Fan Fan Gate is sent undercover to Divine, where he follows independent constables Life Snatcher and Iron Hand, as well as the beautiful Emotionless. Emotionless discovers Coldblood's identity but growing affection between the two keeps her from telling anyone. Coldblood causes the shut down of Divine but before he has time regret it he becomes involved in a battle against a plot to overthrow the government...
More items to consider...