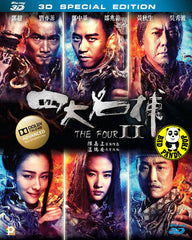 Region Coding: Region Free

Starring:
Deng Chao
Crystal Liu Yifei
Ronald Cheng
Collin Chou
Anthony Wong
Jiang Yiyan
Liu Yan
Wu Siubo
Shereen Tang

Director:
Gordon Chan

Audio Tracks: 
Dolby TrueHD Advanced 96k upsampling

Language: 
Cantonese, Mandarin

Subtitles:
English, Traditional Chinese, Simplified Chinese

Running Time: 
117 minutes

Distributor:
Panorama (HK)

Release Date:
21 March 2014

Synopsis:
When the four constables of the Divine Constabulary investigate a murder in the suburbs, they unexpectedly stumble on clues to the murder of Sheng Ding Tian's family 12 years ago. While investigating the case, the constables discover facts about their past, facts they all would have preferred to keep hidden, and facts that force them to choose between old grudges and their new lives at the Divine Constabulary.  And after a series of bloody battles confront them as the case unfolds, an undeniable fact becomes clear – even if they survive this storm, a bigger one is brewing just over the horizon.

This Blu-ray contains the 3D version only. To play the 3D version, you need a 3D Blu-ray player and a 3D compatible display that supports 3D glasses (glasses are not included for this item).


movie trailer (English subtitle)

More items to consider...