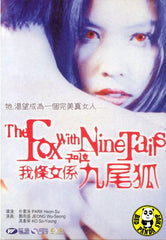 Region Coding:
Region Free

Starring: 
Ko So Young
Jung Woo Sung

Director: 

Park Hyun Soo

Audio Tracks: 
Dolby Digital

Languages: 
Korean

Subtitles: 
English, Traditional Chinese, Simplified Chinese

Running Time: 
107 minutes

Distributor:
Winson Entertainment Distribution Ltd.(HK)

Release Date:
20 Aug 2007

Synopsis:
Since the nine-tailed fox, Harah, is a hybrid of human and fox, it desperately desires to become human totally. One day Harah runs into a handsome taxi driver Hyuk by chance and falls in love with him straigh away. She hopes that by being with him day in and day out, Hyuk can be used as a tool to help Harah become a human being. However, as it turns out, despite her tenderness and kindness towards Hyuk, she is still not able to acheive her ultimate goal to become a woman. On the other hand, a prisoner in hell is appointed to catch Harah, and the whole process is appalling and breathtaking. A hot prusuit beings....
More items to consider...