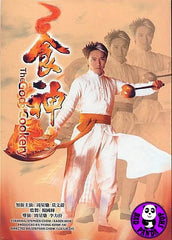 Region Coding: Region Free

Starring: 
Stephen Chow 周星馳
Karen Mok 莫文蔚
Ng Man Tat 吳孟逹
Lee Lik Chi 李力持

Director: 
Stephen Chow 周星馳
Lee Lik Chi 李力持

Audio Tracks: 
Dolby Digital 5.1
DTS Digital Surround

Languages: 
Cantonese, Mandarin

Subtitles: 
English, Traditional Chinese, Simplified Chinese

Running Time: 
96 minutes

Distributor:
CN Entertainment Ltd.

Release Date:
20 Jan 2006

Synopsis:

An arrogant, shallow chef hits the skids when his cooking empire is usurped by a men-spirited rival. He is saved by the true love and good cooking of Sister Turkey, a plain but purehearted street vendor whose wares heal the sick. Together, the two conspire to regain power by besting their foes in an winner-take-all cook-off.
More items to consider...