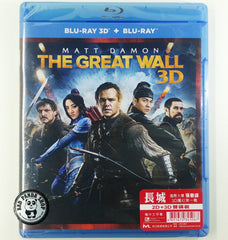 Region Coding: Region Free

Starring:
Matt Damon
Willem Dafoe
Pedro Pascal
Andy Lau 劉德華
Jing Tian 景甜
Zhang Hanyu 張涵予
Lu Han 鹿晗
Eddie Peng 彭于晏
Kenny Lin Gengxin 林更新

Director:
Zhang Yimou 張藝謀

Audio Tracks: 
Dolby Atmos, Dolby Digital 5.1

Languages: 
English, Spanish, Portuguese, Thai

Subtitles:
English, Traditional Chinese 繁體中文字幕, Simplified Chinese 簡體中文字幕, Korean, Indonesian, Portuguese, Spanish, Thai

Number of Discs:
2 Discs (Blu-ray + 3D Blu-ray)

Running Time: 
103 minutes

Distributor: 
Universal Pictures / Intercontinental Video Ltd. (IVL) HK

Release Date:
16 May 2017

Synopsis: 
Starring global superstar Matt Damon and directed by one of the most breathtaking visual stylists of our time, Zhang Yimou (Hero, House of Flying Daggers), Legendary's The Great Wall tells the story of an elite force making a valiant stand for humanity on the world's most iconic structure. The first English-language production for Yimou is the largest film ever shot entirely in China. The Great Wall also stars Jing Tian, Pedro Pascal, Willem Dafoe and Andy Lau.

一部在舉世聞名的萬里長城所展開的動作史詩,以全新的視角講述長城建造的未解之謎。本片為國際知名大導張藝謀首部進軍荷里活的電影,並找來荷里活及中、港、台四地巨星加盟演出!故事發生於古代,兩名外國僱傭兵遠征來到中國,意外發現浩瀚的萬里長城之所以有大軍嚴密鎮守,除為了抵禦外敵,背後更有著不為人知卻威脅到全人類安危的原因!他們漸漸意識到這是一場不能置身事外的戰爭,一群勇武精英的抗戰由此掀起戰幕……

This Blu-ray set contains both the 3D version and the 2D version. To play the 3D version, you need a 3D Blu-ray player and a 3D compatible display that supports 3D glasses (glasses are not included for this item).


movie trailer (Chinese subtitled)
More items to consider...