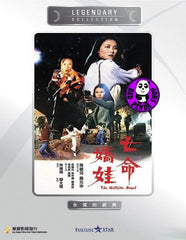 Region Coding: Region Free

Starring: 
Wong Yuen Sun
Ma Man Yee

Director:
Lam Kok Cheung


Audio Tracks: 
Dolby Digital 2.0

Languages: 
Cantonese, Mandarin

Subtitles: 
English, Traditional Chinese, Simplified Chinese


Running Time: 
93 minutes

Distributor:
Joy Sales (HK)

Release Date:
27 Aug 2009

Synopsis:

Ching Sze is a dancing hostess in a cabaret club but she has a sense of honour and justice. One night, four diamond robbers come to her cabaret and are ambushed by police. She helps one of them, Ling, to escape. Sze now helps Ling in his attempt to find San, Lo's sister, one of the robbers. Lo tells San where he hides the diamonds. Sze, Ling and San then go there but are attacked by another group of gangsters...
More items to consider...