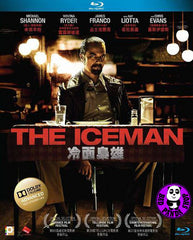 Region Coding: Region A (Locked)

Starring:
Michael Shannon
Winona Ryder
Chris Evans
Ray Liotta
David Schwimmer
Danny A. Abeckaser

Director:
Ariel Vromen

Audio Tracks: 
Dolby TrueHD Advanced 96k upsampling, Dolby Digital EX

Languages: 
English

Subtitles:
English, Traditional Chinese, Simplified Chinese

Running Time: 
- minutes (TBA)

Distributor:
Panorama (HK)

Release Date:
30 Sept 2014

Synopsis:
Inspired by actual events, The Iceman follows notorious contract killer Richard Kuklinski (Academy Award (R) nominee Michael Shannon) from his early days in the mob until his arrest for the murder of more than 100 men. Appearing to be living the American dream as a devoted husband and father; in reality Kuklinski was a ruthless killer-for-hire. When finally arrested in 1986, neither his wife nor daughters have any clue about his real profession.
More items to consider...