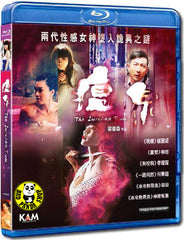 Region Coding: Region A (Locked)

Starring:
Sam Li
Christy Chung
Liu Yan
Tony Ho
Yabuki Haruna
Kunimura Hayato
Kagurazaka Megumi
Abe Mari
Dian Dian

Director:
Leong Sam

Audio Tracks: 
DTS HD Master Audio 5.1, Dolby Digital 5.1

Languages: 
Cantonese, Mandarin

Subtitles:
English, Traditional Chinese, Simplified Chinese

Running Time: 
100 minutes

Distributor:
Kam & Ronson Enterprises Co., Ltd. (HK)

Release Date:
23 July 2013

Synopsis:
An artist named Jiajia promised to show her girl friend Wei Ling around in Japan but eventually fails to show up for no reason. After Wei Ling goes and gets accommodated in a family-run hot spring hotel of Shimizu, Jiajia's Japanese boyfriend, she begins her endless weired experience as if she's haunted, and the hotel even sinks into a series of horrible homicides, in which the victims are all family members of the Shimizu's without exception.
More items to consider...