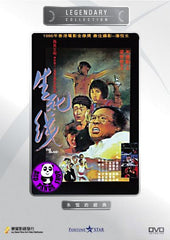 Region Coding: Region Free

Starring: 
John Sham
Helen Au
Huang Bin

Director:
Leong Po Chih


Audio Tracks: 
Dolby Digital 2.0

Languages: 
Cantonese, Mandarin

Subtitles: 
English, Traditional Chinese, Simplified Chinese


Running Time: 
88 minutes

Distributor:
Joy Sales (HK)

Release Date:
25 Oct 2007

Synopsis:

The story takes place on a deserted island. The only residents on the island is a family in which the mother rules over three of her sons: No. 1 Fat, gloomy and sullen; No. 2 Fat, vulgar and cruel; No. 3 Fat, slightly retarded. Mother's earnest wish is to find a wife for No. 3 Fat to continue the family tree. Po, a refugee from Mainland China, is caught by the family and forced to marry No. 3 Fat. However, the mother furiously discovers that Po is not a virgin. Then Po is chained and hidden in a hut. After that, the mother passes away. Six months later, Cheung, along with six of his students arrive on the island for camping. They first meet No. 2 Fat who brings them to the grocer for a rest. No.2 Fat is delighted with the presence of the 3 young girls while No. 3 Fat falls in love at first sight with the charming girl Phyllis. He expresses his feelings to No.1 Fat who has sworn to his mother that he will fulfill her wish to find his youngest brother a wife. He proposes to Cheung that Phyllis be married to No. 3 Fat. Cheung first thinks that it's a joke, but soon senses that No. 1 Fat is serious and that all three brothers are actually psychologically imbalanced. He plans to escape, but no traffic is available. When No.2 Fat tries to rape Po, she fights back and escapes. She reveals the family secret to Cheung and the students. When student Ronald is captured by the brothers as a hostage and Sandy is injured, Cheung is forced to abandon his belief in non-violence and humanity. He has to fight back...
More items to consider...