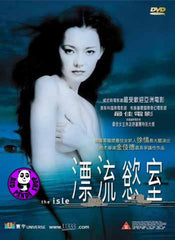 Region Coding: Region 3 (Locked)
Starring: 
Jung Suh
Yoo-Seok Kim
Sung-Hee Park
Hahng-Sun Jang

Director: 
Kim Ki Duk

Audio Tracks: 
Dolby Digital

Languages: 
Korean

Subtitles: 
English, Traditional Chinese, Simplified Chinese

Running Time: 
109 minutes

Distributor:
Universe Laser (HK)

Release Date:
16 Aug 2001

Synopsis:
An isolated mute girl lives by selling food to the fishermen during the daytime and her body at night. One day, she rescues an ex-cop who wants to commit suicide. It brings about their delicate feelings toward each other and sex with her becomes a kind of narcotic for the relief of his pains. Eventually they get decoyed to each other's baits like fish and drive to unexpected catastrophe...

一漂亮啞女早上賣魚糧為生,到晚上卻以誘人的身軀慰藉男人。一日,她救了一企圖自殺的前任警察,更以瘋狂的性愛為他療「傷」。但他倆正步向佔有與自毀的角力……

More items to consider...