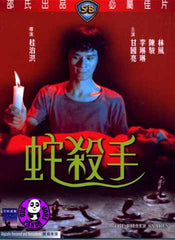 Region Coding: Region 3 (Locked)

Starring: 
Kam Kwok Leung
Maggie Li Lin Lin
Chen Chun
Lin Feng

Director: 
Kuei Chih Hung


Audio Tracks: 
Mono

Languages: 
Mandarin

Subtitles: 
English, Traditional Chinese, Simplified Chinese, Bahasa Malaysian, Bahasa Indonesian

Running Time: 
95 minutes

Distributor:
Intercontinental Video Ltd. (IVL)

Release Date:
6 Mar 2003

Synopsis:
What Willard and Ben did for rodents, this sordid, gory thriller does for slithery serpents and the psychos who love them. A horror story about a mentally unbalanced young man and his friendship with a venomous snake he nicknames Little Piao, the film features more than just fangs. There's rape, murder, and veritable baskets full of creatures who are trained to spread ophidian terror. Like movies that make your skin crawl? Then this one's for you.
*Fully restored from the original film
More items to consider...