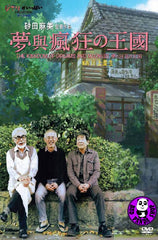 Region Coding: Region 3 (Locked)

Producer:
Nobuo Kawakami

Audio Tracks: 
Dolby Digital 2.0

Languages: 
Japanese

Subtitles:
English, Traditional Chinese, Japanese

Running Time: 
- minutes (TBA)

Production:
Studio Ghibli (2013)

Distributor:
Intercontinental Video Ltd. (IVL)

Release Date:
10 Feb 2015

Synopsis:
Meet the creative forces behind Studio Ghibli, the award-winning Japanese animation studio that is the focus of this absorbing documentary. Hayao Miyazaki, the director of such cinematic wonders as Princess Monokoke, Spirited Away and Howl's Moving Castle is the centre point. He's working on his latest, and perhaps his last film, The Wind Rises. The studio where he storyboards the entire film, and his dedicated team painstakingly draw each frame by hand, is cluttered, homely and apparently lacking any new technologies. On the other side of Tokyo, his colleague Isao Takahata is working on his latest opus. Producer and co-founder Toshio Suzuki shuffles between the two, expertly managing their distinct approaches and longtime rivalry. Director Mami Sunada, winner of SFF's 2012 Audience Award for Best Documentary with Death of a Japanese Salesman, has captured the timelessness of the process, the brilliance and skill, and Miyazaki's perverse, playful humour. Prepare to be enchanted by the genius of Studio Ghibli.In 1988, the duo simultaneously released My Neighbour Totoro (Miyazaki) and Grave of the Fireflies (Takahata). Twenty-six years later, we're pleased to be screening both titles, as well as Takahata's latest, The Tale of The Princess Kaguya, direct from Cannes.
More items to consider...