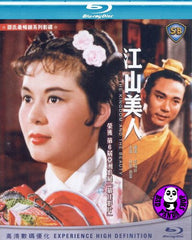 Region Coding: Region A (Locked)

Starring: 
Lam Doi
Chao Lei
King Hu
Director: 
Li Han Hsiang

Audio Tracks: 
DTS-HD Master Audio, Dolby Digital 5.1

Languages: 
Mandarin

Subtitles: 
English, Traditional Chinese, Simplified Chinese

Running Time: 
96 minutes

Distributor:
Intercontinental Video Ltd. (IVL)

Release Date:
01 Feb 2011

Synopsis:
Li Han-hsiang, the acknowledged master of adapting great huangmeei opera tales to film, surpasses himself with this tale of a Chinese emperor's love for a country maiden. So beautifully filmed and sensitively told, it won the best picture award at the prestigious Asian Film Festival, and was a huge box office success. Once seen, its lush color cinematography, memorable score, and the haunting beauty of its superstar, Linda Lin Dai, is rarely forgotten.

More items to consider...