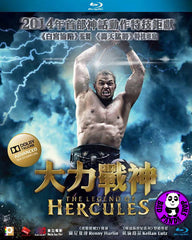 Region Coding: Region A (Locked)

Starring:
Kellan Lutz
Liam Mclntyre
Scott Adkins
Liam Garrigan
Johnathon Schaech
Roxanne MaKee
Gaia Weiss
Rade Serbedzija
Luke Newberry
Kenneth Cranham

Director:
Renny Harlin

Audio Tracks: 
Dolby TrueHD, Dolby Digital TrueHD 7.1 Surround, Dolby Digital EX

Language: 
English

Subtitles:
English, Traditional Chinese, Simplified Chinese

Running Time: 
100 minutes

Distributor:
Panorama (HK)

Release Date:
9 May 2014

Synopsis:
In the epic origin story THE LEGEND OF HERCULES, Kellan Lutz stars as the mythical Greek hero - the son of Zeus, a half-god, half-man blessed with extraordinary strength. Betrayed by his stepfather, the King, and exiled and sold into slavery because of a forbidden love, Hercules must use his formidable powers to fight his way back to his rightful kingdom. Through harrowing battles and gladiator-arena death matches, Hercules embarks on a legendary odyssey to overthrow the King and restore peace to the land.
More items to consider...