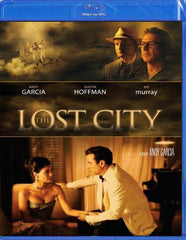 Region Coding: Region A (Locked)

Starring: 
Andy Garcia
Dustin Hoffman
Bill Murray

Director:


Andy Garcia



Languages: 
English

Subtitles:


English, Traditional Chinese

Running Time: 
144 minutes

Distributor:
CN Entertainment

Release Date:
30 Apr 2008

Synopsis:


Havana in 1958 is a place of pleasure for many, but others are not happy under the rule of dictator Fulgencia Batista. As the revolutionary forces of Fidel Castro and Ernesto "Che" Guevara prepare to move on the city, Fico Fellove (Andy Garcia) owner of the city's classiest music nightclub, El Tropico, struggles to hold together his family and the love of a woman (Inés Sastre). Observing all is the Comedian/Writer (Bill Murray), an expatriate American who sees his friend Fico being drawn into events as the revolution changes everything. Though Fico watches a culture vanish and a people transformed, it is his love of Cuban music that keeps his memories alive.




More items to consider...