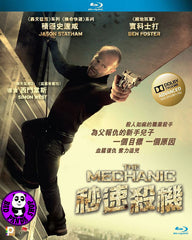 Region Coding: Region A (Locked)

Starring:
Jason Statham
Ben Foster
Tony Goldwyn
Donald Sutherland
Jeff Chase
Mini Anden

Director:
Simon West

Audio Tracks: 
Dolby TrueHD Advanced 96k upsampling, Dolby Digital EX

Language: 
English

Subtitles:
English, Traditional Chinese, Simplified Chinese

Running Time: 
- minutes (TBA)

Distributor:
Panorama (HK)

Release Date:
29 Aug 2014

Synopsis:
Arthur Bishop (Jason Statham) is a 'mechanic' - an elite assassin with a strict code and unique talent for cleanly eliminating targets. It's a job that requires professional perfection and total detachment, and Bishop is the best in the business. But when his mentor and close friend Harry (Donald Sutherland) is murdered, Bishop is anything but detached. His next assignment is self-imposed - he wants those responsible dead.

His mission grows complicated when Harry's son Steve (Ben Foster) approaches him with the same vengeful goal and a determination to learn Bishop's trade. Bishop has always acted alone but he can't turn his back on Harry's son. A methodical hit man takes an impulsive student deep into his world and a deadly partnership is born. But while in pursuit of their ultimate mark, deceptions threaten to surface and those hired to fix problems become problems themselves.

More items to consider...