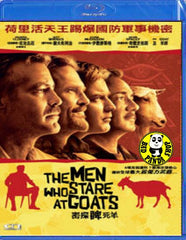 Region Coding: Region A (Locked)

Starring: 
George Clooney
Jeff Bridges
Ewan McGregor
Kevin Spacey

Director:
Grant Heslov

Languages: 
English

Subtitles:


English, Traditional Chinese

Running Time: 
90 minutes

Distributor:
CN Entertainment

Release Date:
21 Sep 2010

Synopsis:
In a comedic look at real life events that are almost too bizarre to believe, a reporter discovers a top-secret wing of the U.S. military when he accompanies an enigmatic Special Forces operator on a mind-boggling mission.

Reporter Bob Wilton (Ewan McGregor) is in search of his next big story when he encounters Lyn Cassady (George Clooney), a shadowy figure who claims to be part of an experimental U.S. military unit. According to Cassady, the New Earth Army is changing the way wars are fought. A legion of "Warrior Monks" with unparalleled psychic powers can read the enemy's thoughts, pass through solid walls, and even kill a goat simply by staring at it. Now, the program's founder, Bill Django (Jeff Bridges), has gone missing and Cassady's mission is to find him.
More items to consider...