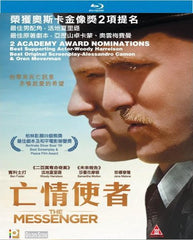 Region Coding: Region A (Locked)

Starring: 
Woody Harrelson
Ben Foster
Jenna Malone
Samantha Morton

Director:
Oren Moverman

Audio Tracks:
English Dolby DTS-HD Master Audio 5.1
English Dolby Digital 5.1

Subtitles:


English, Traditional Chinese

Running Time:
118 minutes

Distributor:
Panorama HK Distributions

Release Date:
18 Feb 2011

Synopsis:
The Messenger is a timeless story that uses humor and emotion to examine universal themes of redemption, hope and the resilience of the human spirit. Directed by Oren Moverman, the film follows two officers (Ben Foster and Woody Harrelson) faced with the unenviable task of notifying the loved ones of fallen soldiers. The two men form a unlikely bond that is threatened when one of the officers finds himself drawn to a young widow (Samantha Morton), setting off an ethical dilemma that plays out in touching and surprising ways. The film is a deeply moving tale about the complex and unexpected ways that people reach out to and gain strength from each other, offering a unique and inspiring vision that deftly balances strong emotional content with humor, compassion and empathy.
More items to consider...