The Millionaires' Express 富貴列車 (1986) (Region 3 DVD) (English Subtitled) Digitally Remastered
$14.99 USD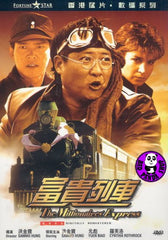 Region Coding: Region 3 (Locked)

Starring: 
Sammo Hung 洪金寶
Cynthia Rothrock
Yuen Biao 元彪
Eric Tsang 曾志偉
Rosamund Kwan 關之琳
Cheng Man Ar 鄭文雅
Yuen Wah 元華
Lam Ching Ying 林正英
Lau Ka Wing 劉家榮
Emily Chu
Corey Yuen
Helen Au
Mang Hoi
Wang Yu Huan

Director: 


Sammo Hung

洪金寶

Audio Tracks: 
Dolby Digital 2.0
Dolby Digital 5.1
DTS Digital Surround

Languages: 
Cantonese
Subtitles: 
English, Traditional Chinese, Simplified Chinese

Running Time: 
101 minutes

Distributor:
Joy Sales (HK)

Release Date:
15 Dec 2006

Synopsis:
In the 1930, the steam is China's only means of mass transport. And a new rail line has been built connecting Shanghai with Chengtu. The first run of its much publicized "Millionaires' Express" is scheduled. The train passes the Hanshai town non-stop. Hanshui, though backward, has a bank of its own. But the security officer and his men, using arson, rob the bank and hide away. They plan to board the express for a wonderful life elsewhere. The town's firemen Yuen Biao finds himself suddenly the security chief in charge of a massive manhunt. Scarely has he realized the seriousness of the job than he finds a happy-go-lucky adventurer Samo who invests in everything connected with pleasure...
More items to consider...