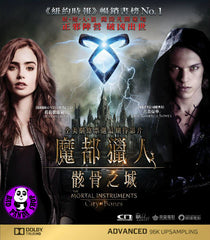 Region Coding: Region A (Locked)

Starring:
Lily Collins
Robert Maillet
Kevin Durand
Lena Headey
Jonathan Rhys Meyers
Godfrey Gao

Director:
Harald Zwart

Audio Tracks: 
Dolby Digital TrueHD 7.1, Dolby Digital Plus 7.1

Languages: 
English

Subtitles:
English, Traditional Chinese, Simplified Chinese

Running Time: 
- minutes (TBA)

Distributor:
CN Entertainment Ltd. (HK)

Release Date:
3 Dec 2013

Synopsis:
Based on the Best-Selling YA series by Cassandra Clare. Clary's life is turned upside down when her mother is kidnapped and it's revealed that she and her mother are actually shadowhunters - billed with protecting the world from downworlders such as vampires, werewolves and demons. Clary must discover her talents and save her mother.

More items to consider...