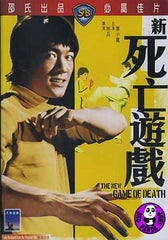 Region Coding: Region 3 (Locked)

Starring: 
Bruce Li



Audio Tracks: 
Mono

Languages: 
Mandarin

Subtitles: 
English, Traditional Chinese

Running Time: 
86 minutes

Distributor:
Intercontinental Video Ltd. (IVL)

Release Date:
6 Jul 2007

Synopsis:
Even if you know the star by his real name, Ho Chung-dao, he is better known throughout the world as Bruce Li, the best of the Bruce Lee imitators. After the tragic death of Bruce Lee prior to the completion of his final film, The Game Of Death, many filmmakers rushed in to do their version of the story, but this is one of the better attempts. Wearing the trademark yellow jumpsuit with the black stripe, Bruce Li takes on every manner of martial artist to save his lady love.
*Fully restored from the original film
More items to consider...