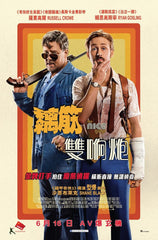 Region Coding: Region A (Locked)

Starring:
Russell Crowe
Rayn Gosling
Angourie Rice
Matt Bomer
Margaret Qualley
Yaya DaCosta

Director:
Shane Black

Audio Tracks: 
Dolby TrueHD Advanced 96k upsampling, Dolby Digital EX

Languages: 
English

Subtitles:
English, Traditional Chinese 繁體中文字幕, Simplified Chinese 簡體中文字幕

Running Time: 
116 minutes

Distributor: 
Panorama (HK)

Release Date:
9 Dec 2016

Synopsis: 
Shane Black (Iron Man 3) directs this police drama set in Los Angeles during the 1970s, and centering on a pair of detectives who stumble into a sprawling conspiracy while investigating the alleged suicide of a once-prominent female porn star. Russell Crowe and Ryan Gosling top-line this Warner Bros. release that reunites Lethal Weapon scribe Black with that film's producer, Joel Silver.

動作喜劇《黐筋雙响炮》以1970年代的美國洛杉磯為背景。運氣欠佳的私家偵探賀蘭馬殊(賴恩高斯寧 飾),與出租打手積臣希利(羅素高爾 飾)一次巧遇,撮合成為歡喜怨家拍檔,一邊查案一邊 互窒。 賀蘭與積臣拍住上,追查一名失蹤少女的下落,原來少女是被追殺的目標。少女的失蹤與慘死的脫星露峰有何關連?這對孖寶愈深入調查,揭發的秘密就愈來愈驚人。兩人繼續查,查出案件牽涉到國家 最高權力核心的大陰謀,惹來殺身之禍。



movie trailer (Chinese subtitled)
More items to consider...