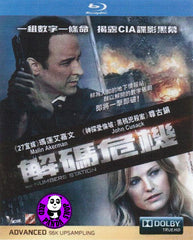 Region Coding: Region A (Locked)

Starring:
John Cusack
Cunningham Liam
Malin Akerman
Joe Montana
Bryan Dick
Finbar Lynch
Brake Richard
Lucy Griffiths
Hannah Murray

Director:
Kasper Barfoed

Audio Tracks: 
Dolby TrueHD, DTS-HD Master Audio, Dolby Digital 5.1

Languages: 
English

Subtitles:
English, Traditional Chinese, Simplified Chinese

Running Time: 
89 minutes

Distributor:
Vicol Entertainment Ltd. (HK)

Release Date:
20 June 2013

Synopsis:
After his latest mission goes disastrously wrong, veteran CIA black ops agent Emerson Kent (John Cusack) is given one last chance to prove he still has what it takes to do his job. His new assignment: guarding Katherine (Malin Akerman), a code operator at a top-secret remote CIA "Numbers Station" where encrypted messages are sent and received. When an elite team of heavily armed assailants lays siege to the station, Emerson and Katherine suddenly find themselves in a life-or-death struggle against an unknown enemy. With the station compromised and innocent lives at stake, they must stop the deadly plot before it's too late.
More items to consider...