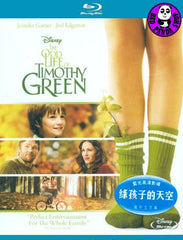 Region Coding: Region A (Locked)

Starring:
Jennifer Garner
Joel Edgerton
CJ Adams
Dianne Wiest
David Morse
Lois Smith
Ron Livingston
Shohreh Aghashloo
James Rebhorn
M. Emmet Walsh
Rosemarie DeWitt
Odeya Rush

Director:
Peter Hedges

Audio Tracks:
DTS-HD Master Audio, Dolby Digital 5.1

Languages:
English, Portuguese, Spanish, Thai

Subtitles:


English, Traditional Chinese,

Korean, Spanish, Bahasa (Malaysia), Thai, Bahasa (Indonesia), Portuguese



Running Time:
104 minutes

Distributor:
Intercontinental Video Ltd. (IVL)

Release Date:
10 Dec 2012

Synopsis:
Disney brings enchantment home with The Odd Life Of Timothy Green, an inspiring, magical story for the whole family starring Jennifer Garner. Cindy (Garner) and Jim Green are a happily married couple who can't wait to start a family but can only dream about what their child would be like. When young Timothy show up on their doorstep one stormy night, Cindy and Jim - and their samll town of Stanleyville - learn that sometimes the unexpected can bring some of life's greatest gifts. From Academy Award - nominated director/writer Peter Hedges (About A Boy, Best Adapted Screenplay, 2002; Dan In Real Life; What's Eating Gilbert Grape) - and complete with engaging bonus features - it's a heartwarming celebration of family as only Disney can deliver.
More items to consider...