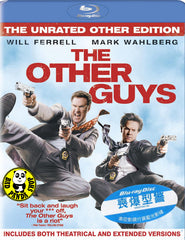 Region Coding: Region A (Locked)

Starring:
Samuel L. Jackson
Derek Jeter
Dwayne Johnson
Eva Mendes
Larnell Stovall
Jalil Jay Lynch

Director:
McKay Adam

Audio Tracks:
- (TBA)

Languages:
English

Subtitles:
English, Traditional Chinese

Running Time:
107 minutes

Distributor:
Intercontinental Video Ltd. (IVL) HK

Release Date:
06 Aug 2013

Synopsis:
A desk-jockey detective and his tough-talking partner get their moment to shine in this buddy police comedy starring Will Ferrell and Mark Wahlberg, and directed by Adam McKay (Anchorman: The Legend of Ron Burgundy, Talladega Nights: The Ballad of Ricky Bobby). New York City detective Allen Gamble (Ferrell) is more comfortable pushing pencils than busting bad guys. A meticulous forensic accountant, his numbers are never off. Detective Terry Hoitz (Wahlberg) is Gamble's reluctant partner. Try as Detective Hoitz might to get back on the streets, an embarrassing encounter with Derek Jeter has left a sizable black mark on his permanent record. Detectives Danson (Dwayne Johnson) and Highsmith (Samuel L. Jackson) are the complete opposites of Gamble and Hoitz: unwaveringly confident, they always get their man, and they do it with style to spare. When the time comes for Gamble and Hoitz to prove their mettle and save the day, their incompetence becomes the stuff of legend.
More items to consider...