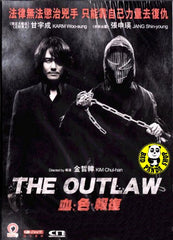 Region Coding:
Region 3 (Locked)

Starring: 
Gam Woo Sung
Jang Shin Young

Director: 
Kim Cheol Han

Audio Tracks: 
Dolby Digital 5.1, DTS Digital Surround

Languages: 
Korean

Subtitles: 
English, Traditional Chinese

Running Time: 
94 minutes

Distributor:
CN Entertainment Ltd. (HK)

Release Date:
22 Dec 2011

Synopsis:
Detective Jung-soo faces the victims of brutal murders who got killed for no reason which makes him outraged. During the investigation, he meets Ji-hyun who is the only survivor and marries her, but they cannot escape from the tragic past of Ji-hyun.
One day, Jung-soo's partner, So-young, arives at the crime scene where she finds Jung-soo crying out in sorrow with his wife and daughter in his arms who are found viciously murdered after went missing. But as the police and the law let loose on the suspect because of a lack of evidence, he decides to take vengeance himself on those unpunished killers and the cruel world.
More items to consider...