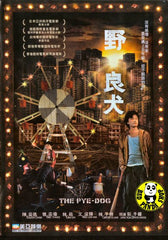 Region Coding: Region Free

Starring: 
Eason Chan
George Lam
Eric Tsang
Gia Lin
Wen Jun Hui
Siu Yam Yam
Teddy Robin
Derek Kwok
Emily Kwan
Lolette Lee
Cheung Kwok Keung
Billy Lau

Director: 
Derek Kwok


Audio Tracks: 
Dolby Digital 5.1, DTS Digital Surround

Languages: 
Cantonese, Mandarin

Subtitles: 
English, Traditional Chinese, Simplified Chinese


Running Time: 
90 minutes

Distributor:
Mei Ah Entertainment (HK)

Release Date:
28 Jan 2008

Synopsis:

Dui, a triad gofer who has a particular affinity for assembling, though not necessarily shooting guns, is sent undercover in an elementary school to ferret out the kid of a powerful gangster. The gangster is on his way back to Hong Kong to assume power, which threatens all sorts of triad muck-a-mucks who don't want anyone messing with the status quo. Dui's bosses are among the threatened, so they order Dui to find the kid to use him as a bargaining chip. Dui takes up a job as a janitor at the kid's school and sets about finding the boy, but his oddball personality soon attracts another oddball: young Wang, a seemingly mute kid who first catches Dui's eye when he's roughhousing with a bunch of kids over a collectible Japanese trading card. Their first encounter puts Dui at odds with Wang, but before long, the two forge some sort of common bond. Joining them is new teacher Miss Cheung who's a bit of an oddball herself. Together, the trio brave messed up field trips and difficult art assignments. Meanwhile, there's triad action afoot, as Dui can't spend all this time screwing around in school on someone else's dime. Soon, people start asking how his mission is going, and Dui has to respond.
More items to consider...