The Raid - Redemption (2012) (Region 3 DVD) (English Subtitled) Indonesian Movie a.k.a. Serbuan maut
$15.99 USD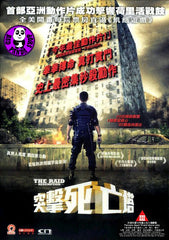 Region Coding:
Region 3 (Locked)

Starring:
Iko Uwais
Doni Alamsyah
Ananda George
Pay  Sahetapy
Yayan Ruhian
Pierre Gruno

Director:
Gareth Evans

Audio Tracks: 


Dolby TrueHD Advanced 96kHz Upsampling, Dolby Digital

5.1

Languages: 


Indonesian



Subtitles:


English, Traditional Chinese



Running Time: 
101 minutes

Distributor:
CN Entertainment Ltd. (HK)

Release Date:
23 Aug 2012

Synopsis:

The apartment block has never been raided before, never been touched by police. Seen as a no go zone the building has become a sanctuary to killers, gangs, rapists and thieves seeking accommodation in the one place they know they cannot be touched. Making their move in the break of dawn they work their way up the building under cover of silence, steadily controlling the location one floor at a time. But when a chance encounter with a spotter blows their cover, TAMA orders a lock down on the building with all lights out and all exits blocked. Now stranded on the 6th floor with all communications cut and with TAMA sending out a call to arms from his tenants the special force team must fight their way through every floor and every room not just to complete their mission but to survive their bloody ordeal.
5 wins & 5 nominations:
Best Midnight Madness Film People's Choice Award of Toronto International Film Festival 2011
Best Film of Audience Award of Dublin International Film Festival 2012
Best Film of Dublin Film Critics Award

of Dublin International Film Festival 2012
Silver Scream Award (Director: Gareth Evans) of Amsterdam Fantastic Film Festival 2012
More items to consider...