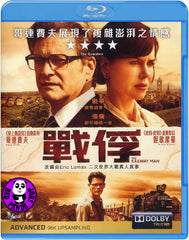 Region Coding: Region A (Locked)

Starring:
Colin Firth
Nicole Kidman
Jeremy Irvine
Stellan Skarsgard
Hiroyuki Sanada
Sam Reid

Director:
Jonathan Teplitzky

Audio Tracks: 
DTS-HD Master Audio 5.1

Language: 
English

Subtitles:
English, Traditional Chinese, Simplified Chinese

Running Time: 
116 minutes

Distributor:
Vicol Entertainment Ltd. (HK)

Release Date:
11 June 2014

Synopsis:
Based on the remarkable bestselling autobiography, THE RAILWAY MAN tells the extraordinary and epic true story of Eric Lomax (Colin Firth), a British Army officer who is tormented as a prisoner of war at a Japanese labor camp during World War II. Decades later, Lomax and his beautiful love interest Patti (Nicole Kidman) discover that the Japanese interpreter responsible for much of his treatment is still alive and set out to confront him, and his haunting past, in this powerful and inspiring tale of heroism, humanity and the redeeming power of love.


movie trailer (Chinese subtitle)

More items to consider...