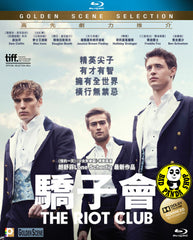 Region Coding: Region A (Locked)

Starring:
Jessica Brown
Freddie Fox
Ben Schnetzer
Olly Alexander
Jack Farthing
Josh O'Connor

Director:
Lone Scherfig

Audio Tracks: 
Dolby TrueHD Advanced 96k upsampling, Dolby Digital EX

Languages: 
English

Subtitles:
English, Traditional Chinese

Running Time: 
- minutes (TBA)

Distributor: 
Panorama (HK)

Release Date:
10 July 2015

Synopsis:
As term begins the Club finds itself two members short, so President James (Freddie Fox) urges his fellow Club Members to find some suitable candidates to join their set. Meanwhile, Miles (Max Irons) joins Oxford, keen to throw himself into University life. He finds himself drawn to Lauren (Holliday Grainger), an attractive and spirited working class student who he finds a refreshing change from the girls he's used to dating. Miles is seduced by Hugo's (Sam Reid) offer to join and after passing an initiation test with flying colours he becomes the Club's ninth member. The Club finds its tenth and final member in Alistair (Sam Claflin), chosen largely on the basis that he's the younger brother of an ex-Rioter.

The Riot Club gathers at a village pub for a night , as the drink flows and tempers flare, the evening spirals into drunken mayhem. After the disturbing events of the dinner the boys are forced to face up to their actions, as they deal with the repercussions of their reckless behaviour. Threatened with being thrown out of the University, the Riot Club must decide who takes the fall.
More items to consider...