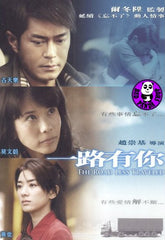 Region Coding: Region 3 (Locked)
Starring: 
Louis Koo
Karen Mok
Crystal Huang
Wayne Lai
Yin Xiao Tian
Liang Da Wei
Chen Xi Bei

Director: 

Derek Chiu
Producer: 
Derek Yee
Audio Tracks: 
Dolby Digital 5.1
DTS Digital Surround
Dolby Digital EX
THX Surround EX

Languages: 
Cantonese, Mandarin

Subtitles: 
English, Traditional Chinese, Simplified Chinese

Running Time: 
108 minutes
Distributor:
Vicol Entertainment Ltd. (HK)

Release Date:
18 Feb 2011

Synopsis:
Life is what happens when you're busy making other plans. On the Hong Kong-Guangzhou expressway, Yan (Huang Yi) and Hui (Louis Koo) had been living in different lanes - Yan ran a roadside diner with her husband Cheung, while hui worked as a truck driver passing by daily. Their lives never intersect until one stormy night, when Cheung's motorcycle crashed into Hui's truck. Cheung died soon afterward, and Hui wished he were too. In addition to his unbearable guilt, Hui also lost his truck and livelihood due to further police investigation. Hui returned to Hong Kong and sought solace from his fiancee Susan (Karen Mok). But without any income, their wedding was on the brink of cancellation.

Life seemed to have no way out. Yan was in labor and overwhelmed by Hui's affection and care. Yet she believed his love was merely misguided sympathy, and they were meant to go on separate ways. As Hui broke up with Susan to be with Yan, he was shocked to find both Yan and the diner were gone. Where could he find the road that lead to Yan's heart...?!
More items to consider...