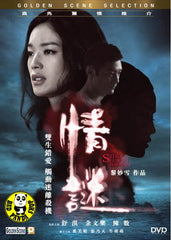 Region Coding: Region 3 (Locked)
Starring: 
Shu Qi
Shawn Yue
Chen Shu
Lo Hoi Pang
Cheung Kam Ching
Hsi Mei Chuan
Niu Meng Meng
Zhang Nai Tian
Leng Zhong Yi

Director: 

Carol Lai
Producer: 
Gordon Chan
Audio Tracks: 
Dolby Digital 2.0
Dolby Digital 5.1

Languages: 
Cantonese, Mandarin

Subtitles: 
English, Traditional Chinese

Running Time: 
102 minutes
Distributor:
Panorama (HK)

Release Date:
13 July 2012

Synopsis:
Hui Bao (Shu Qi) and Nan (Shawn Yue), a longtime couple, are both stage drama actors. They are now intensely rehearsing for their troupe'' tour of their new play "The Legend of Lady Plum Blossom". After a lot of hard work. Hui Bao becomes the second leading actress of the play. Unfortunately, she falls severely ill right before the last show of the low, and worries that her failure to perform would destroy her career. Hui Bao's performance, however, totally blows everyone away and is highly acclaimed as her best performance ever. In actuality, Hui Bao's twin sister. Hui Xiang (Shu O) secretly substituted her older sister during the performance and took all the credit. Hui Bao is not only ungrateful for her sister's help, but she starts to grow envious and suspicious of her. Hui Bao finds that Hui Xiang, who is as beautiful as hse is, yet more sweet and talented, is a threat to both her career and her relationship with Nan. Hui Bao also suspects that Nan has been having an after with Hui Xiang. Hui Bao meets Hui Xiang by the seashore on a stormy night, desperately wanting to figure out whether her sister is having an after with her boyfriend. Rowing on a boat like they did when they were young, Hui Bao urges Hui Xiang to tell her the truth. Sudden waves and sound of screams erupt from the middle of the ocean. After that mysterious night, nly one of the two sisters returns to shore. As the mystery ensues, neither Nan nor their friends could distinguish whether the one returning is Hui Bao or Hui Xiang. Not even the sister's blind mother, who has an acute sense of smell, could distinguish between the two, as she still feels the presence of both her daughters around her. As the story progresses. "The Legend of Lady Plum Blossom" is going on re-run, and the truth will be revealed on stage….
More items to consider...