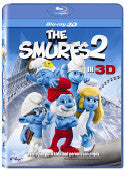 Region Coding: Region A (Locked)

Starring:
Animation

Director:
Raja Gosnell

Audio Tracks: 
DTS-HD Master Audio 5.1, Dolby Digital 5.1

Languages: 
English, Cantonese, Mandarin, Thai, Spanish, Korean, Malay, Portuguese

Subtitles:
English, Traditional Chinese, Traditional Chinese, Korean, Spanish, Indonesian, Malay, Portuguese, Korean

Running Time: 
- minutes (TBA)

Distributor:
Sony Pictures / Intercontinental Video Ltd. (IVL) HK

Release Date:
19 Nov 2013

Synopsis:
The Smurfs are back with this follow-up to the blockbuster smash hit from 2011. J. David Stem and David Weiss provide the script, from a story they wrote with Jay Scherick and David Ronn.


This Blu-ray set contains both the 3D version and the 2D version. To play the 3D version, you need a 3D Blu-ray player and a 3D compatible display that supports 3D glasses (glasses are not included for this item).


movie trailer (Cantonese dub)

More items to consider...