The Soong Sisters 宋家皇朝 Blu-ray (1997) (Region Free) (English Subtitled) Digitally Remastered
$18.99 USD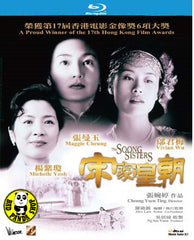 Region Coding: Region Free

Starring:
Maggie Cheung 張曼玉
Michelle Yeoh 楊紫瓊
Vivian Wu 鄔君梅

Director:
Mabel Cheung Yuen Ting 張婉婷

Audio Tracks: 

Dolby TrueHD 96k upsampling, Dolby Digital 5.1

Languages: 
Mandarin

Subtitles:
English, Traditional Chinese, Simplified Chinese

Running Time: 
145 minutes

Distributor: 
Vicol Entertainment Ltd. (HK)

Release Date:
21 May 2015

Synopsis:
At the turn of the 20th century, the three Soong sisters married three of the most influential figures in the history of China. Watch the sisters journey from their college years in America to their lives with the men who shaped modern China.
More items to consider...