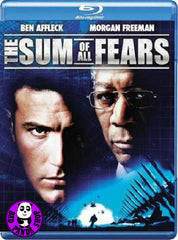 Region Coding: Region Free

Starring:
Morgan Freeman
Ben Affleck
James Cromwell
Liev Schreiber
Alan Bates
Philip Baker Hall

Director:
Phil Alden Robinson

Audio Tracks: 
Dolby TrueHD 5.1, Dolby Digital 5.1

Languages: 
English, French, Portuguese, Spanish, German, Italian

Subtitles:
English, Traditional Chinese, Simplified Chinese, Korean, French, Spanish, Thai, Danish, Swedish, Dutch, Italian, German, Finnish, Norwegian, Polish, Romanian, Czech, Slovakian, Portuguese, Hindi, Turkish

Running Time: 
124 minutes

Distributor:
Paramount / Intercontinental Video Ltd. (IVL) HK

Release Date:
1 Nov 2013

Synopsis:
Ben Affleck is ready for action, commanding the role of CIA agent Jack Ryan in this thrilling adventure based on the Tom Clancy bestseller.

America's Cold War fears are rekindled after the President of Russia dies and is succeeded by a man with a cryptic past. But East-West tensions erupt when the CIA suspects that renegade Russian scientists are developing more nuclear weapons. Mobilized into action by CIA Director William Cabot (Morgan Freeman ), Jack Ryan (Affleck) follows a danger-ridden trail to a shocking conclusion: terrorists plan to provoke a war between the U.S. and Russia - by detonating a nuclear bomb at a championship football game!

Costarring James Cromwell and Liev Schreiber, The Sum of All Fears adds up to explosive entertainment.

More items to consider...