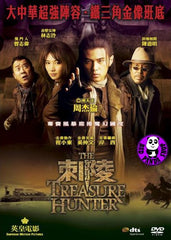 Region Coding: Region 3 (Locked)

Starring:
Chen Dao Ming
Jay Chou
Lin Chi Ling
Eric Tsang
Miao Pu
Will Liu
Baron Chen
Kenneth Tsang
Ke Shu Yuan
Guan Xiao Tong
Yee Chung Man
Ivy Ho
Director:
Chu Yen Ping
Action Director:
Ching Siu Tung

Audio Tracks:
Dolby Digital 5.1

Languages:
Mandarin, Original Soundtrack

Subtitles:
English, Traditional Chinese, Simplified Chinese

Running Time:
105 minutes

Distributor:
Joy Sales (HK)

Release Date:
09 Feb 2010

Synopsis:
Oiaofei has been conducting ancient relics protection. One day his Boss's only daughter, Lan Ting, was kidnapped by a group of treasure hunters, and they threaten Qiaofei to hand over the map. After a thrilling violent battle, Qiaofei saved Ting but the map was taken away. Qiaofei simply intended to accomplish the mission in danger and did not expect the company of three, Ting, Pork Rib and the archeologist Hua Dingbang. The four encounter unpredictable dangers from the desert, accompany cruel killing interference and arguments and conflicts among each other along the way. But they end up with a strong brotherhood in the relentless desert. After getting through difficulties, the ancient city in legend has appeared just in front of them...

More items to consider...