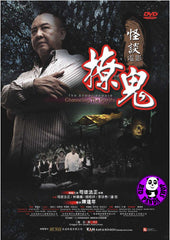 Region Coding: Region 3 (Locked)

Starring:
Master Szeto

Director:
Chan Tatlin

Audio Tracks: 
DTS-HD Master Audio 5.1, DTS 5.1, Dolby Digital 2.0

Picture Format:
PAL

Languages: 
Cantonese, Mandarin

Subtitles:
English, Traditional Chinese, Simplified Chinese

Running Time: 
90 minutes

Distributor:
Kam & Ronson Enterprises Co., Ltd. (HK)

Release Date:
6 March 2014

Synopsis:
Master Szeto is the master documentary approach and through various provocative spirit and contact spirits make the audience, for example, asked the meters and strokes spiritual ceremony Evocation, more so shooting team spirit harassmentand upper body, among them many real cases, the film shot on Southeast Asia, including Thailand, Cambodia, Vietnam and Malaysia, but also by local residents, some little-known real-life cases pop up.

Vietnam
Case 1: Slaughter animal blood sacrifice ceremony
- Million blood sacrifices ceremonies (which lasts 5 days 4 nights, only to kill a large number of animals to ancestor worship)
Case 2: Funeral home corpse next to ask meters
- Funeral Homes mourning trick Ling asked rice to settle unfinished aspiration for the spirits of the dead.
Case 3: Dragon Prince upper body
-Witch ask meters, including female players injured
Case 4: Thai East - Wan slope, County nursing home Evocation
- Bizarre suicide which is the true supernatural cases
Case 5: Lucky mausoleum strokes Spirit, ghost upper body
- Ho Chi Minh City - Female crew team spirit body possessed master at the scene for her to drive Spirit
Case 6: Vietnam War Ghost Factory
- Ho Chi Minh City - Mass graves factory haunted rumors (during the Vietnam War there are numerous casualties, and the factory was built on the mass graves, the master will expel the factory ghosts with the local Master)

Thailand
Case 7: Wenzhou Ms. false Butterfly
- Stuart Law, will talk about Hong Kong is very popular with Ancient Man Tong thorn characters, Butterflies, push gold ceremonies, the destruction of ceremonies for the authenticity and validity of the strength of the audience.
Case 8: Thai female worship cockroaches God accident
- The real case of Thailand - Thailand Exorcist Master (Master let the audience know that the Master Exorcist real process)

Malaysia
Case 9: Campbell - Ghost Building Evocation Ceremonies
- Campbell Murderer Evocation ceremony
More items to consider...